All archive photos shown here are for sale. Please contact me at post@cfsalicath.no for a quote.
In addition, special print releases are listed below at special prices.
Tog 61 på Kongsnut

Panorama of train number 61 to Bergen passing Kongsnut on Bergensbanen, near Finse in january 2016.
Limited 2016-edition* of ten printed on 75x30cm 310g PhotoRag.
Price: 2000NOK (=210€), + postage
Transient, october 2015

For sale is a collage named "Transient", an attemt to describe a journey through Siberia and elsewhere on the Transsiberian Express. The collage is sold in a limited 2015-edition* of 3.
The collage is printed on 310g PhotoRag, 50x75cm, mounted on kapa foam board.
Price: 4500NOK (=450€) + postage
Steamboy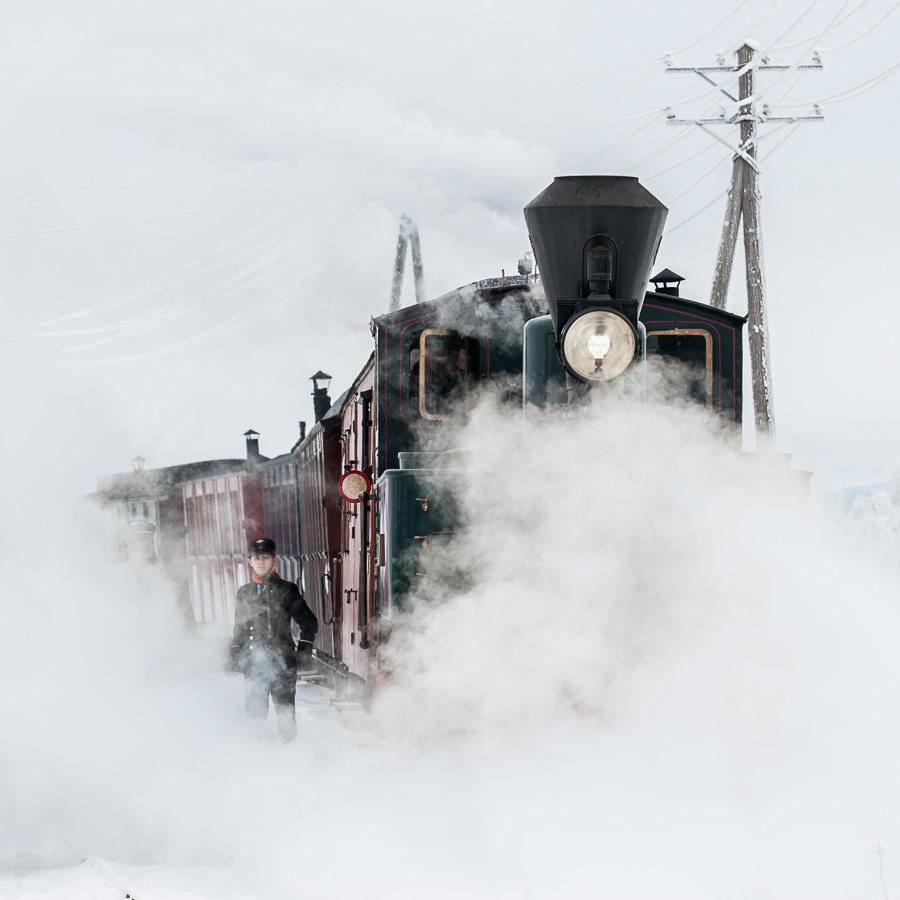 This photograph was shot at Urskog-Hølandsbane museum railway end station Fossum. Originally presented untitled, it was quicly dubbed "the one with the boy in the steam" in online communities, and on this site, thereby gaining the name "Steamboy" here (reference intended).
Printed on 308g Photo Rag Ultra Smooth, 40x40cm. This print is sold in a limited 2015-edition* of 20.
Price: 1200NOK (=120€) + postage
Urskog-Hølandsbanen is a narrow-gauge (750mm) museal railway line built in 1896 between Sørumsand and Skulerud. Closed for traffic in 1960, the final 3,2km are kept for historic museum purposes. Every sunday through the summer, as well as during the christmas holiday, a group of volunteer enthusiasts runs a steam service on the line using original engines and coaches.
*) What does "limited 20XX-edition" mean?
Although the collectors community loved limited editions because it means they may make a decent dollar on a rare print, I belive it is bad for photographers and art lovers. That is why I sell my work in editions limited whitin the year of release. If you buy print 1/3-2015 of a print, that means that is the first of three prints of that picture in 2015, a no other editions is made that year of that picture. It is unique. But, at some point I may decide to make another batch, numbering them in the year of print. They may be a different size and different paper, making them just as unique. But, most importantly, there will be more prints out there that the first 3 – making my work available to a wider public. If you want to limit communication of images in order to get a hold of truly singular prints – look elsewhere.